__________________________________________
How the Cremona-Kremlin project was born
In the fall of 2004, Christian Zenz, President of Amati Trading LLC & Amati Books, an avid aficionado of fine instruments and everything related, visited Moscow to sign an agreement for the distribution of a recently published book, "The Great Russian Collection" - a catalog of 283 unique string instruments in the possesion of the famous State Collection of Russia.
His Moscow guide was Misha Rachlevsky, Artistic Director and Conductor of Chamber Orchestra Kremlin. During this visit when C. Zenz was introduced to the Orchestra and heard it perform, he envisioned a grand project unite today's practitioners, those of Cremonese violinmaking and Russian string playing. His idea was met wich much enthusiasm by Misha Rachlevsky, and the Cremona-Kremlin project was born.
The 17 Cremonese that will be plaied in the concerts all around the world by Chamber Orchestra Kremlin, were selected from a pool of 47 instruments/makers, who responded to Mr. Zenz's invitation and submitted theyr creations for this project.
The Concertmaster of the Chamber Orchestra Kremlin, Vladislav Bezroukov, choosed a Maurizio Tadioli violin made in 2005 on a Guarneri del Gesł model of 1742, "The Lord Wilton"
During the concert held in Moscow the June 29, 2005, he played the first part of the program with a original Guarneri del Gesł 1740 from the Russian State Collection, and the second part with the Tadioli copy that he will play for all the orchestra world tour.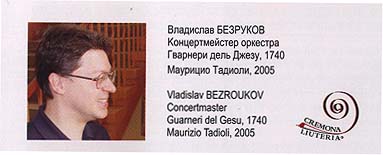 Vladislav Bezroukov - Concertmaster Chamber Orchestra Kremlin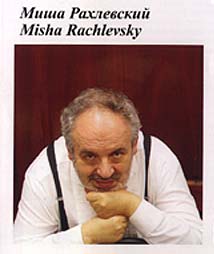 Misha Rachlevsky - Conductor Chamber Orchestra Kremlin
Maurizio Tadioli violin modelled on the Guarneri del Gesł 1742 "The Lord Wilton" played from Vladislav Bezroukov
My visit in Moscow
ITALIAN EMBASSY - Togheter my friends and collegues Andrea Shudtz, Giorgio Grisales, Christian Zenz, Min Jeong Kang, Daniele Tonarelli, Edgar Russ, Alessandro Commendulli and the Ambassador of Italy in Russian Federation Mr. Gianfranco Facco Bonetti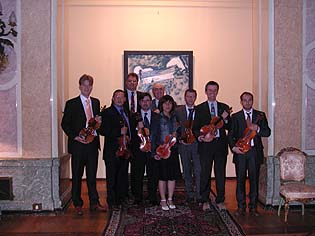 The Concert held by Chamber Orchestra Kremlin
Moscow Conservatory Concert Hall - June 29, 2005
www.ChamberOrchestraKremlin.ru